I, Fat Bastard have always said vegetables are what food eats. Proud FA, the former Dean of Feederism will tell you this one undeniable fact... FAT FATTENS BEST.
Two of the greatest forces responsible for the obesity bloom are Dr Arthur Agatston of the South Beach DIEt and the late great Dr Robert Atkins of the Atkins diet. Atkins was obese as hell when he died and Agatston is a fat boy who needs to take statin drugs. OINK! A minor player in that game is Barry Sears of the Zone Diet.
When I Fat Bastardo really want to have a foodfest or a gluttony safari and I do quite regularly I take a little extra insulin to spike my already huge appetite. Like the Chef, I am a big man with a big appetite and I ain't makin no apologies for it.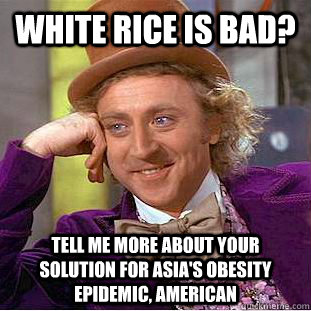 Low Carb diets make you fat. That said... fat guys should do low carb and fat girls need to slim down and eat the way Asian girls eat. Asian chicks are HOT and Belly Boy will attest to that. Asian chicks eat high carb diets consisting of of fruit and rice.